Keep your readers informed about the Covid-19 pandemic. We created two new statistics shortcodes for the tagDiv Composer page builder that automatically bring data from a GitHub repository maintained by Johns Hopkins University (JHU). The shortcodes automatically pull the Coronavirus pandemic official data to populate the fields.
Covid-19 Statistic Counter
Country specific statistic counter you can insert anywhere on your website.
All countries
5,587,582
Total confirmed cases
Updated on May 26, 2020 1:59 am
1. Type in the country name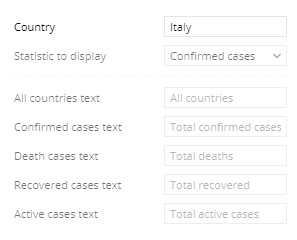 Italy
141,981
Total recovered
Updated on May 26, 2020 1:59 am
2. Select statistic to display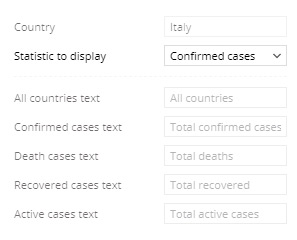 3. Change the text around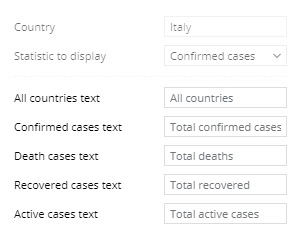 Covid-19 Statistics Table
Display data from every country affected by the pandemic in the form of a detailed table.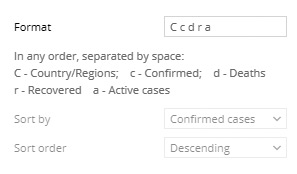 Sort based on a statistic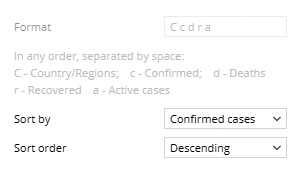 Tons of style customization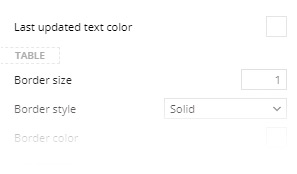 Country/Region
Confirmed cases
Deaths
Recovered
Active cases
USA
1,706,226
99,805
464,670
1,141,751
Brazil
376,669
23,522
153,833
199,314
Russia
353,427
3,633
118,798
230,996
Spain
282,480
26,837
196,958
58,685
Italy
230,158
32,877
141,981
55,300
France
182,942
28,432
65,199
89,311
Germany
180,789
8,428
161,200
11,161
Turkey
157,814
4,369
120,015
33,430
India
144,950
4,172
60,706
80,072
Iran
137,724
7,451
107,713
22,560
Peru
123,979
3,629
50,949
69,401
Canada
85,711
6,545
44,638
34,528
Saudi Arabia
74,795
399
45,668
28,728
Chile
73,997
761
29,302
43,934
Mexico
71,105
7,633
49,890
13,582
Belgium
57,342
9,312
15,297
32,733
Pakistan
56,349
1,167
17,482
37,700
Qatar
45,465
26
10,363
35,076
Netherlands
45,445
5,830
0
39,615
Ecuador
37,355
3,203
18,003
16,149
Belarus
37,144
204
14,449
22,491
Bangladesh
35,585
501
7,334
27,750
Sweden
33,843
4,029
4,971
24,843
Singapore
31,960
23
15,738
16,199
Portugal
30,788
1,330
17,822
11,636
Switzerland
30,746
1,913
28,200
633
Ireland
24,698
1,606
21,060
2,032
South Africa
23,615
481
11,917
11,217
Indonesia
22,750
1,391
5,642
15,717
Colombia
21,981
750
5,265
15,966
Kuwait
21,967
165
6,621
15,181
Poland
21,631
1,007
9,276
11,348
Ukraine
21,245
623
7,234
13,388
Romania
18,283
1,205
11,630
5,448
Egypt
17,967
783
4,900
12,284
Israel
16,734
281
14,307
2,146
Japan
16,581
830
13,612
2,139
Austria
16,539
641
15,138
760
Dominican Republic
15,073
460
8,285
6,328
Philippines
14,319
873
3,323
10,123
Argentina
12,628
467
3,999
8,162
S. Korea
11,225
269
10,275
681
Serbia
11,193
239
5,920
5,034
Panama
11,183
310
6,279
4,594
Afghanistan
11,173
219
1,097
9,857
Czechia
9,002
317
6,182
2,503
Kazakhstan
8,531
35
4,515
3,981
Algeria
8,503
609
4,747
3,147
Nigeria
8,068
233
2,311
5,524
Morocco
7,532
200
4,774
2,558
Malaysia
7,417
115
5,979
1,323
Moldova
7,147
261
3,802
3,084
Australia
7,126
102
6,552
472
Finland
6,599
308
5,100
1,191
Cameroon
4,890
165
1,865
2,860
Azerbaijan
4,271
51
2,741
1,479
Luxembourg
3,993
110
3,781
102
Hungary
3,756
491
1,711
1,554
Uzbekistan
3,189
13
2,607
569
Tajikistan
3,100
46
1,395
1,659
Djibouti
2,468
14
1,079
1,375
Côte d'Ivoire
2,423
30
1,257
1,136
Macedonia
1,999
113
1,439
447
El Salvador
1,983
35
772
1,176
New Zealand
1,504
21
1,461
22
Guinea-Bissau
1,178
7
42
1,129
Equatorial Guinea
1,043
12
165
866
Diamond Princess
712
13
651
48
Central African Republic
652
1
22
629
Channel Islands
559
45
517
-3
Sao Tome and Principe
299
11
4
284
Trinidad and Tobago
116
8
108
0
Syrian Arab Republic
106
4
41
61
Libyan Arab Jamahiriya
75
3
40
32
Antigua and Barbuda
25
3
19
3
Lao People's Democratic Republic
19
0
14
5
Saint Vincent and the Grenadines
18
0
14
4
Saint Kitts and Nevis
15
0
15
0
Falkland Islands (Malvinas)
13
0
13
0
Holy See (Vatican City State)
12
0
2
10
Turks and Caicos Islands
12
1
10
1
British Virgin Islands
8
1
6
1
Caribbean Netherlands
6
0
6
0
Saint Pierre Miquelon
1
0
1
0
Updated on May 26, 2020 1:59 am