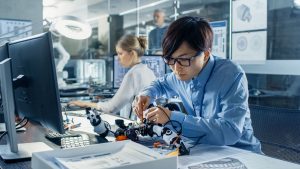 Inside, a 64-bit A9X processor has twice the memory bandwidth of the A8X used in the iPad Air 2. It also has twice the graphics performance, thanks in part to Apple's new Metal programming language. There will be two storage options at launch (32GB and 128GB) but both should deliver around twice the storage performance as the iPad Air 2.
Although the rumours had suggested the iPad Pro would have a 4K resolution display, that turned out not to be the case. The 4:3 panel instead has a 2,742×2048 display, with a variable refresh rate to save energy when the screen isn't showing any moving images. The Oxide TFT panel is apparently better for colour accuracy, with Apple using the same manufacturing process as it used for the iMac with 5K retina display.
Despite the performance improvements and bigger screen, the iPad Pro should still be able to deliver 10 hours of continuous use on a single charge. You also get 802.11ac Wi-Fi, and an 8-megapixel iSight camera on the back of the tablet.